Catalonia Trade & Investment and Acció hosted the Molière project presentation during the annual international congress on Intelligent Transport Systems
Catalonia Trade and Investment in collaboration with Acció hosted the Molière project presentation as part of a well-balanced programme of activities during the ITS Hamburg event on 14 October 2021. The aim of the event was to bring together professionals dedicated to accessible mobility, in which micromobility and shared mobility services increasingly complement public transport and reduce dependence on single-occupancy private vehicles. The Molière project was accepted with great interest.
Molière is funded within the EU Horizon 2020 programme as a 24-month project, with overall funding of €1.9 m received from the European Union Agency for the Space Programme (EUSPA) under grant agreement No. 101004275. After presenting the project's facts and figures, Evelina Mihaylova (Project Manager of CARNET) described Molière's ambitions and methodology in the coming months, as part of the two-year project workplan.
For the first time, MOLIERE will implement a MaaS platform that will integrate an evaluation of the journey quality experienced by users. Traditionally, transit operators carry out user satisfaction surveys that embrace the level of service provided individually by one mobility supplier. The novelty of this proposal is to define the user satisfaction analysis by the MaaS aggregator in the entire multimodal trip (one user, one service, multiple mobility suppliers). The system will be able to learn from the surveys and propose personalized mobility services and packages, according to the level of satisfaction.
The ITS Congress had over 200 sessions and workshops in which participants could attend a variety of discussions with high-level officials, industry and academic leaders. The Congress provided  opportunities to experience outstanding demonstrations with cutting-edge solutions, an extensive list of technical visits and tours, over 400 individual exhibitors showcasing the latest, most exceptional solutions and innovations in ITS, a start-up area with over 40 creative innovators, and a great networking and social programme.
The Congress offered a large-scale, unique demonstration platform to present technological innovations in the field of ITS. Demonstrations highlighted current technical possibilities within the framework of the ITS themes in an interactive way for the visitor.
The ITS World Congress is an annual international congress focused on intelligent transport systems. Each year, the World Congress is hosted in one of three regions: Europe, Asia-Pacific or the Americas. The regional ITS associations, ERTICO – ITS Europe, ITS Asia-Pacific and ITS America, host the World Congress when it falls in their respective region every three years. Due to the COVID-19 pandemic, the 2020 ITS World Congress was cancelled. However, in 2021 international ITS experts, professionals, public and private sector leaders, researchers, engineers and students, representing all corners of the ITS industry, gathered at the 27th ITS World Congress in Hamburg from 11 to 15 October.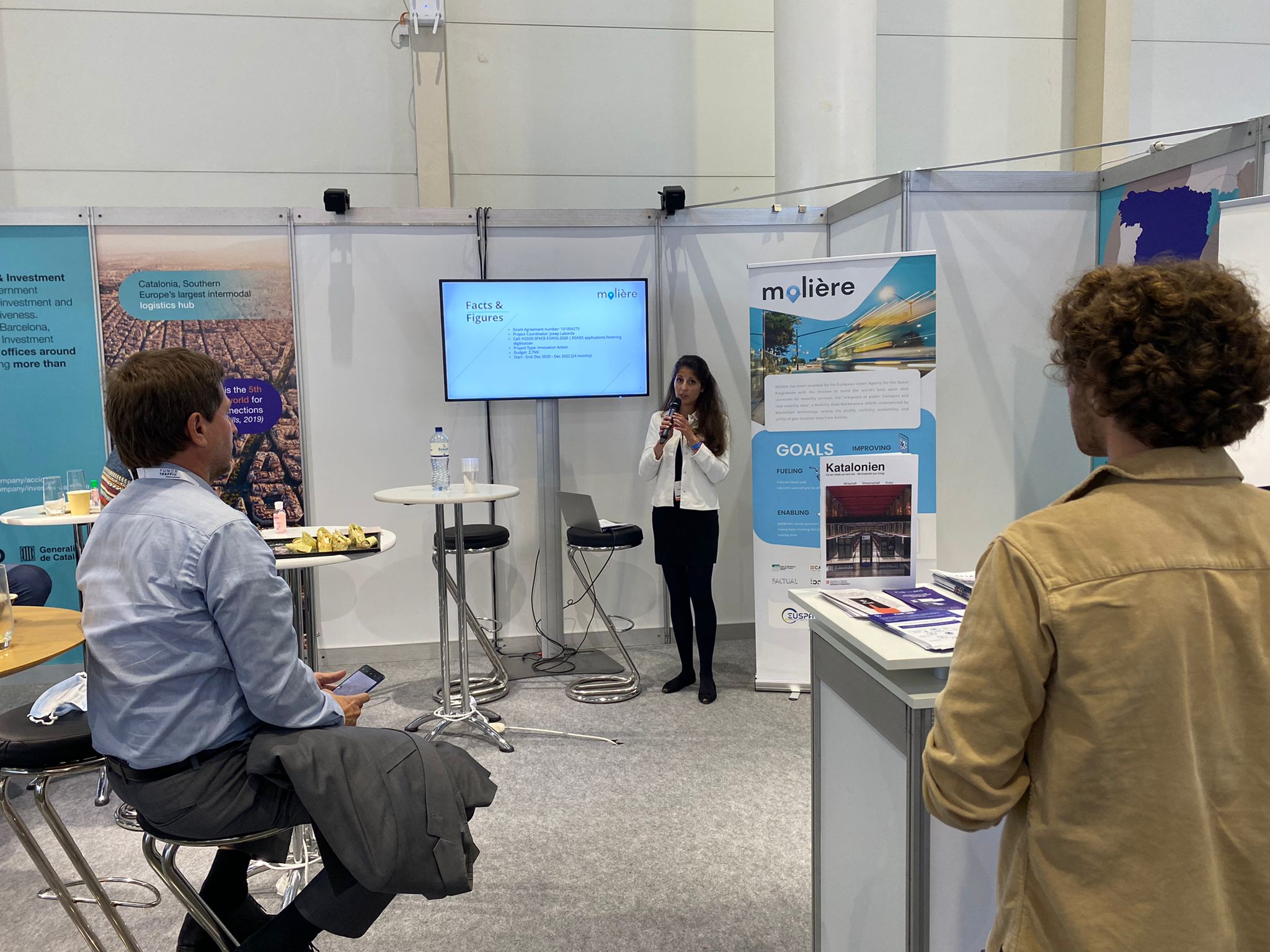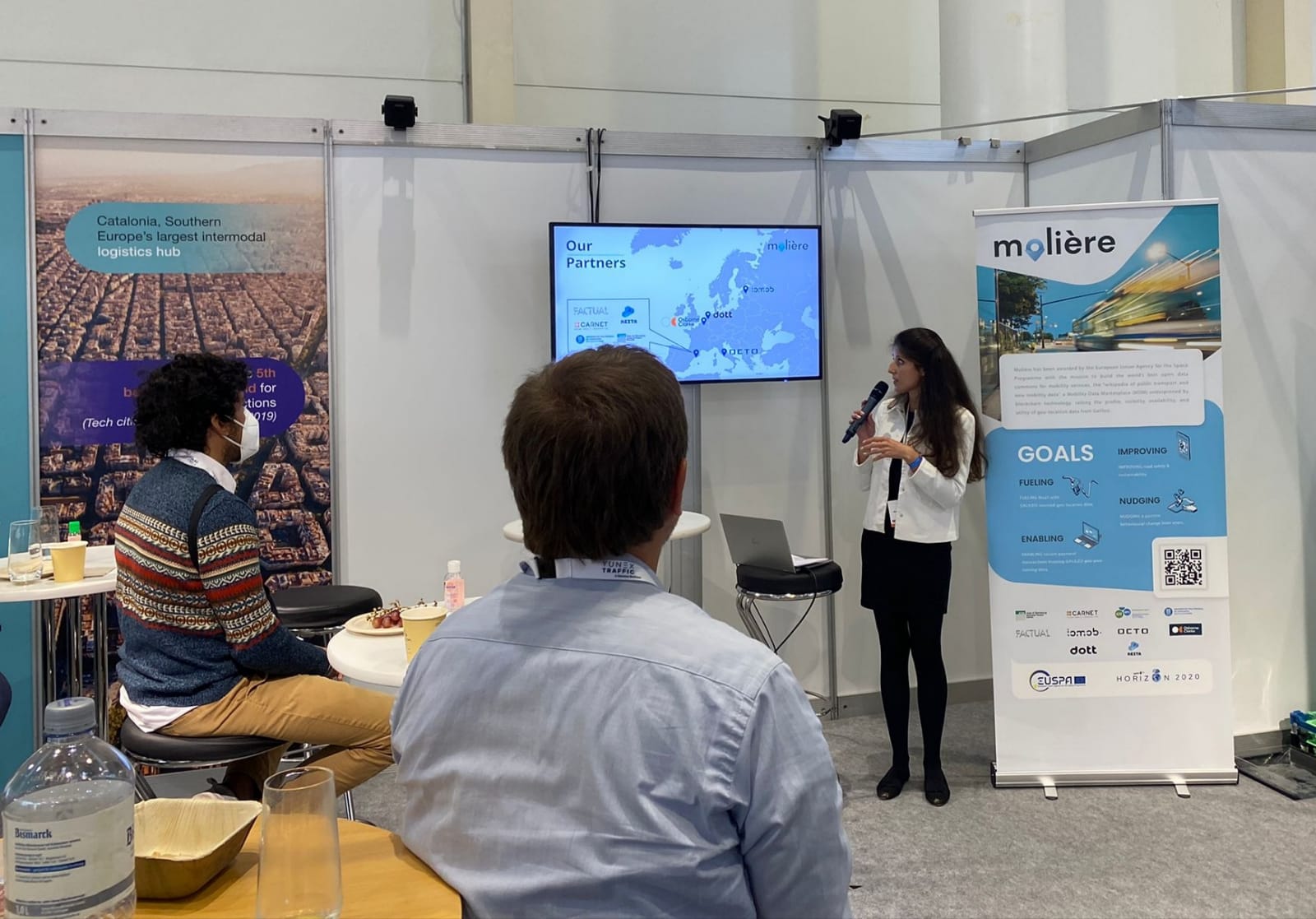 BACKGROUND
About Molière
Molière has been awarded €1.9 m in funding by the European Union Agency for the Space Programme (EUSPA). The goal is to promote more sustainable, affordable, equitable, accessible mobility, in which micromobility and shared mobility services increasingly complement public transport. The Molière consortium works to demonstrate a diverse set of concrete, highly relevant mobility scenarios and use cases where geolocation data is key, addressing the needs of cities, public transport authorities, mobility service providers and end users. More about the Molière project – http://moliere-project.eu
About EUSPA
The mission of the European Union Agency for the Space Programme (EUSPA) is to be the user-oriented operational agency of the EU Space Programme, contributing to the sustainable growth, security and safety of the European Union. Its goal is to communicate, promote and develop the market for data, information and services offered by Galileo, EGNOS, Copernicus and GOVSATCOM. Galileo provides improved positioning and timing information with significant positive implications for many European services and users. Due to the multi-constellation of receivers that Galileo adds to, users can now know their exact position with greater precision. Galileo's dual-frequency capability offers significant advantages in terms of achievable accuracy and improved resistance to jamming. Products that people use every day, from the GPS in their car to a mobile phone, benefit from the increased accuracy that Galileo provides. Galileo helps make Europe's roads and railways safer and more efficient. Galileo boosts European innovation, contributes to the creation of many new products and services, creates jobs and allows Europe to own a greater share of the global market for added value services. For more information visit https://www.euspa.europa.eu/