Dr. Jose L. Muñoz Tapia,
Director of the Blockchain master at the UPC School
Dr. Jose Luis Muñoz Tapias – Doctor in Telecommunications Engineering at the UPC, associate professor in the Department of Network Engineering at the same university and member of the Information Security Group (ISG). His areas of expertise are applied cryptography, blockchain and distributed ledger technologies, computer networks, security, and virtualization. He is also co-author of dozens of articles in several journals and congresses, as well as evaluator of projects for the Ministry of Energy, Tourism and the Digital Agenda (MINECO).
Prof. Dr. Philipp Sandner
Head of Frankfurt School Blockchain Center
Prof. Dr. Philipp Sandner is head of the Frankfurt School Blockchain Center (FSBC) at the Frankfurt School of Finance & Management. His expertise includes blockchain technology in general, crypto assets such as Bitcoin and Ethereum, the digital programmable Euro, tokenization of assets and rights and digital identity. The FSBC advises financial organizations, industrial corporations and startups concerning their blockchain activities. 
Dr. María-Eva Ramírez
Mrs. María-Eva Ramírez has a PhD in Mathematical Sciences and 15 years of experience in GNSS from system to user experience. She works at INECO as GNSS Expert, working as part of SpaceOpal Team at the GSC (European GNSS Service Center) for Galileo Adoption and Market Development, focused mainly on EGNSS Applications on Agriculture and Geomatics domain.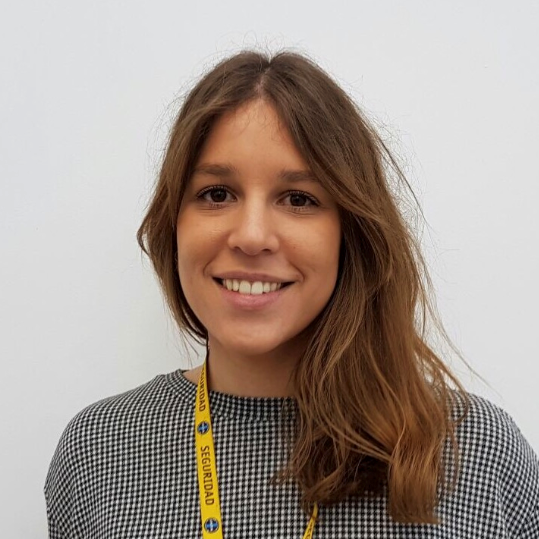 Ana Senado García
Galileo User Services Support Engineer at the Galileo Service Centre (GSC)
Mrs. Ana Senado has an M.Sc.Degree in Telecommunication Engineer and 7 years of experience in GNSS from system operations to service provision working in different companies of the sector. She works at Telespazio Iberica as Galileo User Services support engineer and current activities are mainly focused on providing support for the implementation and adoption of Galileo in different market domains such as geomatics, agriculture and maritime.
Prof. Dr. Karina Gibert
Full professor at UPC, CoFounder and head of IDEAI-UPC, and Vicepresident of Equity and Ethics at COEINF.
Prof. Dr. Karina Gibert is a Full Professor at the Universitat Politècnica de Catalunya-BarcelonaTech (UPC) since 2018, and has been teaching at UPC since 1990. She is a Bachelor in Informatics Engineering with specialities in computational statistics and Artificial Intelligence, Ph.D. in Computer Science and Postgraduate in Higher Education Teaching at UPC. She is also expert of the Catalan Strategic Plan for AI of the Catalan government (Catalonia.ai) and founder of donesIAcat and donesCOEINF. Member of the advisory board of the Catalan Observatoire of Ethics in AI.
Prof. Dr. Elisa Sayrol
Academic Director at TecnoCampus
Prof. Dr. Elisa Sayrol is currently an Associate Professor and the Academic Director at the TecnoCampus. In the past she was an Associate Professor at the Department of Signal Theory and Communications at UPC and belonged to the research group on image and video processing. Besides her educational and research activities, she also held different responsibilities at UPC, as Associate Dean for International Relations at the Telecom School, Dean of the Telecom School and Vicerector of Institutional Relationships at UPC, from the period from 2001 to 2012. From 2017 to 2022 she belonged to the Academic Committee of CARNET and was part of the team that worked to win the KIC in Urban Mobility.
Ferdinand Burgersdijk
MaaS Alliance, Coordinador del WG Technology, Standards and Ticketing
Ferdinand Burgersdijk is regarded as a visionary and thought leader. He learned that we have a distorted view on reality. With his background in law, business administration and philosophy he understands different positions and this helps him to bridge the gaps helping other in solving intricate issues. Ferdinand is the leader for MaaS Alliance's Working groups for Ticketing, Standardisation and Technology and an independent expert for EIT Urban Mobility, CIO to several private organisations and executive board member of FairsFair.