The New Space Economy is characterized by the emergence of new players, such as private companies and startups, who are disrupting the traditional government-dominated space industry. As such, it is expected to create new business opportunities, generate economic growth, and drive innovation in a variety of industries.
Molière is an example of the above, where the European Union Agency for the Space Programme (EUSPA) has joined with the variety of partners that form the consortium in order to demonstrate that the European GNSS, Galileo, has much more to offer than one would think at first sight, and even more if in combination with other emerging technologies such as blockchain.
It is due to this that Molière will form part of the New Space Economy Congress during 22 and 23 of November 2023, in Barcelona. To main events will grant the space to Molière partners to showcase the work we have been doing since 2021, and keep developing relationships with key members of the industry to keep developing which was just a disruptive idea once.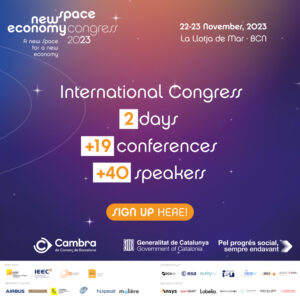 On Wednesday 22, Molière has been chosen to deliver one of the Space Talks starting from 17.30h. where we will be sharing our insights to inspire attendees to dream big when thinking of space technologies, with our outcomes as example of what is possible.
On Thursday 23, Molière will moderate and participate in the Space for Smart, Connected Regions panel, starting at 12:15h. With the increasing interdependence between space technology, and transport and mobility innovation, this discussion will explore how the precise positioning and connectivity offered by satellites and other technologies has to become instrumental in the successful implementation of Smart, Connected Regions. Panelists will unravel the intricate web of challenges and opportunities, offering invaluable insights into how the synergy between space technology and regional planning can shape the wider connectivity strategies of tomorrow, as Molière use cases have demonstrated.
The congress will also host the fifth full consortium meeting. This final meeting will be the opportunity to sum up and close the details for future collaborations and next steps that have already been discussed between partners, along with other bodies and companies that have come into play as a result of our communication and engagement efforts.